Marcelo Villarroel, Freddy Fuentevilla and Juan Aliste Vega were arrested in 2009 after a long international manhunt, accused of the robbery of a Santander Bank and the murder of a cop in October 2007. They were imprisoned for years awaiting trial and had it regularly postponed.
Former member of the Mapu Lautaro and political prisoner in the 1990s, accused of participating in an assault on Santander bank (Valparaíso September 2007) and Banco Security in October 2007, where the agent of repression Luis Moyano died in the retreat in an armed confrontation, in addition to another assault on a third bank. The prosecution requested a qualified life sentence plus 20 years accusing him of having killed the police officer, wounding the other, and carrying out 3 assaults.
On July 2, 2014, the 3 comrades were sentenced in their absence, having refused to assist in the judicial show, and gave their disposition by video link. Juan was sentenced to 18 years for the homicide of Moyano + 10 years for attempted homicide on the cop Abarca + 14 years for the assault on Santander Bank in Valparaiso and Banco Security for a total of 42 years. He was acquitted for the assault on Santander Bank in Agustinas.
Picture: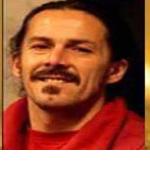 Mailing Address:
Unidad Especial de Alta Seguridad
Cárcel de Alta Seguridad, Modulo J (3 piso)
1902 Avenida Pedro Montt
Chile