Brendan McConville is an Irish Republican socialist prisoner wrongfully convicted of the murder of a police officer in the "Craigavon 2" case, after a trial before a "Diplock" court, a secret military court with no jury. The case has been supported as a miscarriage of justice by high profile campaigners, legal experts & human rights activists. The prosecution used discredited witnesses, inconclusive forensics, and tampered evidence to secure a conviction that does not stand up to scrutiny. Security services destroyed evidence, intimidated witnesses and defence lawyers.
Brendan McConville was born on 19th May 1971. He is the youngest son of Willie and Eileen, from Lurgan Co, Armagh, Brother to Damian, Thomas and Dwyer. Brendan is a loving Father of two boys, Sean and Caoimhin
He first attended Tanaghmore Primary school in Lurgan before moving to Craigavon with his family at the age of seven, where he attended St. Anthony's Primary school and then on to Lismore Comprehensive. Brendan has a keen interest in the Irish language and culture, after leaving school he attended Irish language classes at the Lurgan Cumann of the Gaelic League were he obtained a gold fainne.
Brendan is passionate about community activism, in the past he served the people of Loughside ward in Lurgan when they elected him as their local councillor in Craigavon Borough Council. Brendan is known locally as an astute articulate debater, yet is soft spoken with a smiling generous personality. He enjoys a close relationship with his family and friends and is well respected within his community.
Through out the ordeal that Brendan now finds himself he has continually denied all involvement, as can been seen on his support site the so called evidence against him is thin or non existent, despite these hardships and the conditions in which he finds himself Brendan keeps his spirits up through reading and letter writing he also helps other Prisoners interested in learning the Irish Language, for his family he is a pillar of strength in these trying times, to all who know him he is affectionately known as "big Yandie".
Picture: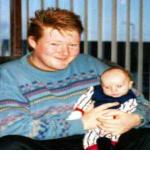 Mailing Address:
HM Prison Maghaberry
17 Old Road
United Kingdom