Marcelo was a MAPU Lautaro member and political prisoner for 11 years, two months and fifteen days from October 13, 1992 until December 28, 2003. Later, he was charged with taking part in the September 2007 Banco Santander robbery in Valparaíso and the October 2007 Banco Security robbery in Santiago during which repressive agent Luis Moyano died in a shootout while they were making their escape.
After a period as a fugitive, Villarroel was arrested on March 15, 2008 together with Freddy Fuentevilla in Neuquen, Argentina. They were then deported to Chile on December 15, 2009. Freddy and Juan Aliste Vega were charged with the same, and were imprisoned for years awaiting trial and had it regularly postponed.
On July 2, 2014, the 3 comrades were sentenced in their absence, having refused to assist in the judicial show, and gave their disposition by video link. Marcelo was sentenced to 14 years in prison for the assault on Santander Bank in Valparaiso and Banco Security.
Later additional charges were added:
– Illicit terrorist association: 10 years and 1 day.
– Damage to a cop car with serious injuries to carabineers: 3 years + 541 days.
– Co-author murder qualified as terrorist: 15 years and 1 day.
– Theft with intimidation, Law 18.314: 10 years and 1 day.
– Explosive attack against the embassy of spain: 8 years.
In total, these old convictions compute 46 years, establishing its end on February, 2056.
Address is correct as of 30/3/14.
Picture: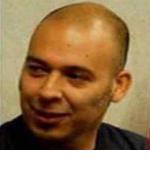 Mailing Address:
Marcelo Villarroel Sepúlveda
Unidad Especial de Alta Seguridad
Cárcel de Alta Seguridad, Modulo H Norte (2 piso)
1902 Avenida Pedro Montt
Chile