Oleg was senteced to 20 years in prison after a trial described by Amnesty International as "redolent of Stalinist-era show trials."
Sentsov and his co-defendant Alexander Kolchenko, who received a 10-year sentence, were accused of planning terrorist acts in Crimea after the peninsula was annexed by Russia.
Sentsov directed the 2011 feature film Gamer, but stopped work on a new movie when Russia began to intervene in Crimea. He coordinated relief efforts for the Ukrainian soldiers who were blockaded inside their bases by Russian troops.
Typically letters must be written in Russian to be received by prisoners. Oleg has been unable to write back to anyone even his immediate family although over the years a few letters have been smuggled out. Letters may also be submitted via the contact form on The Solidarity Committee website.
Picture: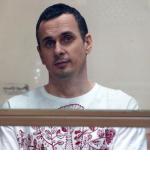 Mailing Address:
Sentsov Oleg Gennadievich (born 1976)
ul. Onichenko 25, FKU IK-1 UFSIN of Russian Federation in Sakha Republic
Yakutsk
Sakha, Respublika [Yakutiya]
677004
Russia