Joel is a Swedish anti-fascist currently on remand for defending an anti-racist demonstration in Kärrtorp, near Stockholm, from a vicious attack by the neo-Nazi group Swedish Resistance Movement (SMR). During the fight, a number of the attackers were seriously injured and Joel was sentenced to 5.5 years on appeal. He is getting out on parole in 2017, and has a fine (4,000 euro) to pay of when he is coming out.
On the 15th of December, 2013, the local residents of the Kärrtorp area of Stockholm gathered in their neighborhood. Several hundred people of all sorts, including the elderly pensioners, parents with baby strollers in tow, and young people organized a demonstration against a nazi organization that had been spreading nazi propaganda in local schools, and attacking anti-racist residents of the area with knives, sticks, and glass bottles.
As the residents of Kärrtorp retreated, Anti-Fascist Action and the leftist Revolutionary Front clashed with the SMR. As a result of the attack, over 20,000 local residents gathered on December 22nd to send a clear message to the nazis that they were unwelcome in the neighborhood. However, antifa member Joel Almgren was arrested by police as a result of the violence, and convicted of attempted murder for stabbing an SMR member in the back.
Released on parole in June 2017
Picture: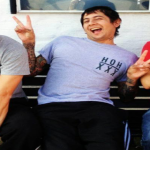 Birthday:
Thursday, January 18, 1979