Then twenty-one year old Australian Jock Palfreeman started his travels around Europe in early 2006. Having visited numerous countries and stayed in a small town an hour drive from Bulgaria's capital, Sofia, living and working with his friends, he returned to visit them at the end of December 2007 after traveling to the UK.
Legal Case
On a night out with these friends that December, he witnessed a group of 16 football hooligans associated with various fascist groups attack two Roma (gypsy) boys, and he stepped in to defend them. He tried to keep them away by waving a knife at them, but they attacked him anyway, not only with punches but also by throwing blocks of concrete at him. Jock defended himself with the knife. As a result of the fight, one of the attackers, Andrei Monov, died and another was seriously injured.
The dead man turned out to be from a well known Bulgarian family with political connections and, after 2 long years of procedurally dubious trial with a clear political flavour, Jock was found guilty of murder and attempted murder, and sentenced to 20 years imprisonment and given a 375,000 Australian dollar fine. The case was built solely on the statements taken from the nazis, who claimed that Jock randomly attacked the group, chasing them with the intent to kill someone; whilst key witnesses and other possible witnesses were never interviewed and the CCTV footage from the scene mysteriously went missing. Forensic evidence suggesting that the fatal blow did not come from Palfreeman's knife was not admitted.
After numerous petitions submitted to the court by the defence, only one was accepted and this was merely to re-question five of the witnesses to explain why they all had initially stated that the fight between the group and the Roma boys had taken place, but had then denied ever having said this. Despite the court now accepting that the fight between the group and Roma boys had actually taken place, the Appeal court upheld the original sentence.
It is worth mentioning that despite the Bulgarian authorities trying to portray Jock's assailants as "normal students," they had been members of, or had connections to, far right groups in Bulgaria. One of these "normal students," Emil Alexiev, is a member of Bulgarian neo-Nazi group National Resistance and in 2010 had been arrested for taking part in a brutal attack against refugee rights activists on a tram, which left a number of them with very serious injuries.
Life in Prison
In prison, Jock never surrendered and quickly became a thorn in the side of the authorities, helping fellow prisoners by teaching English and acting as a jailhouse lawyer, as well as highlighting the authorities' abuses and corruption. Additionally, in 2010 he founded the Bulgarian Prisoners Association (BPA), the first official organisation to fight for rights of prisoners in Bulgaria: http://bpra.info/.
Due to Jock's activist work as chairman of the BPA, helping fellow prisoners and giving legal advice, Jock has suffered numerous incidents of repression at the hands of prison authorities, such as frequent cell searches, periods in isolation, beatings, problems with receiving books and access to his studies.
On January 13, 2013, Jock went on hunger strike and, after 30 days of drinking only watery drinks and losing 20 kg, he managed finally to get an official answer to the various requests that he had submitted to the prison authorities in connection with his mistreatment, and which had all been ignored, and he continues fighting his corner by the legal means open to him.
Over a year ago the Australian government sent a request for Jock's transfer to an Australian prison, which can only happen if Jock's friends and family pay the price that the Bulgarian court ordered to be paid in compensation to his victims and their families. Jock has therefore been forced to conclude that he is currently being held for ransom by the Bulgarian judicial system.
He can read English and Bulgarian.
Media
Some archive info on support actions, Jock's letters etc: http://anarchistsolidarity.wordpress.com/category/jock-palfreeman/
Good mainstream book about Jock by Belinda Hawkins: http://everyparentsnightmare.com/
2018 Article on the BPRA: https://www.greenleft.org.au/content/bulgaria-jock-palfreeman-and-prisoner-rights-association-need-your-support
Picture: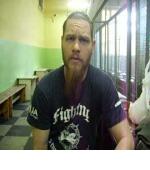 Birthday:
Thursday, November 13, 1986