Dzmitry Paliyenka is a social activist and anarchist sympathizer. On October 11, 2016 sentenced to 2 years of prison with 2-year deferral of punishment for a violent attack on a road police officer during the Critical Mass.
Critical Mass on April 29, 2016 in Minsk ended up with 6 people detained and a criminal case started against one of its participants. Cyclists were moving along the road when a road police car blocked the road ordering to stop the action immediately. One of the policemen grabbed an activist and pushed him to the ground, kicking him. Dzmitry Paliyenka grabbed the policemen by the jacket trying to stop the violence and ended up detained himself by the arriving SWAT unit.
Dzmitry spent about 6 months in custody awaiting trial only to be set free on suspended sentence.
On April 7, 2017 he was put back in jail because of numerous administrative arrests he got in March-April 2017. Dzmitry took an active part in the 'anti-parasite' protests and in the protest to protect the place of Stalinist repressions in Minsk.
Released on October 24, 2018.
*Belarus ABC would like to state that we don't know exactly what his political views are. Judging by what is known we can make a conclusion that they were quite controversial. At the same time it is evident that lately he has been showing interest to antiauthoritarian ideas.
Given that, we decided to support Dzmitry for the following reasons:

he was detained for the participation in the action that we ideologically support
he is accused of actions that we approve of (no matter he did it or not)
we believe that the actions of the police in this case are woven into a wider repressive fabric of the state that is striving to stifle any attempts of self-organisation.
Picture: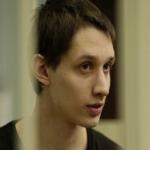 Bitcoin:
1CcxWEswKjXZgXQCds5KcHfemzrAASVbuv