Arrested on 29.09.2020 for POLITICAL REASONS according to part 2 of Article 293 of the criminal article of the Republic of Belarus charged with participation in mass riots and sentenced to 8 years of imprisonment.
Due to the current situation and the huge costs of legal services, transfers and other related expenses, the family is in a very difficult situation. We ask you to support us financially and we will be very grateful for the help of caring people! Your help, if you can provide it without compromising your interests (any, even a small amount will matter), will be very timely. If you have any questions, please contact us by email - iprb@rambler.ru, and for thanks from relatives, specify your mailbox when translating in a note. Thanks!
His words before his arrest: "I can't watch innocent people being arrested, much less defenseless women and girls." We very much hope for solidarity and mutual assistance - no matter how many mountains and seas away from each other we are, the good always comes back. We look to the future with a positive attitude!
Усе будзе добра. https://spring96.org/en/news/101487
Picture: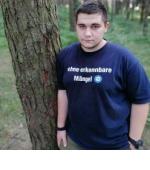 Birthday:
Saturday, October 11, 1997
Mailing Address:
99A
vulica Krupskaj
Mahilioŭ
Belarus
Bitcoin:
1D8Ntk42Detu9xAdiGKVTKwzmPsMjLpMFJ