Seth Hayes is a member of the Black Panther Party and the Black Liberation Army, he was framed and convicted of murdering a NYC police officer in 1973. He was charged with seven counts of attempted murder and one count of murder in the first degree. He has repeatedly been denied parole, not based on his record in prison but because of his political beliefs and work with the Black Panther Party.
Personal Background
Robert Seth Hayes was born in Harlem, New York in October 1947. His father, John Franklin Hayes, was the child of sharecroppers and came to New York City from South Carolina; his mother, Francine Washington Hayes, moved to New York from Pittsburgh. Both of Mr. Hayes' parents worked for the U.S. Postal Service, trying to provide a better life for Seth and his four brothers and sisters. They also instilled in their children the desire to work for the betterment of their community. Seth writes, "My mother taught me to visualize family universally, not individually." Seth's father was a World War II veteran and a member of the United Negro Improvement Association, the Black Nationalist organization founded by Marcus Garvey.
Growing up in New York City, first in Harlem, later in the Bronx and Queens, Seth saw one Black neighborhood after another suffering from neglect, despair, anger and defeat. At the same time, he recalls witnessing over the years a birth of hope and determination to overcome these conditions.
After his schooling in New York City, Seth worked as a psychiatric aide at Creedmoor Hospital.
Seth Drafted into the Vietnam War
Seth was born in the Bronx in 1968. As a young man he was drafted into the Vietnam War. Seth was wounded and awarded a variety of military awards including the Purple Heart, the National Defense Service Medal, the Vietnam Service Medal, and the Vietnam Campaign Medal. Back in the U.S., when riots exploded across the nation in response to the April 4th, 1968 assassination of Martin Luther King, Seth's troop was ordered to assist in putting down the massive rebellions which took place and spread across the United States. According to Seth, "it was the saddest day of my life, and I could never identify again with the aims of the armed forces or the government."
After the assassination of Martin Luther King and the social upheaval which followed it, Robert Seth Hayes joined the Black Panther Party, working in the Party's free medical clinics and free breakfast programs. At the time, seven New York City police officers were breaking into his home, Robert had no police record prior to these charges. He, along with many others in the BPP were forced underground from the constant FBI and police attacks and repression.
Legal Case
On June 5, 1973, a transit officer, Sidney Thompson, was shot and killed while trying to detain two individuals at transit station in the Bronx. Seth and another person were arrested for the death of the transit officer. Seth was convicted of the crime, in addition to eight counts of attempted murder of a NYC police officer, weapons possession, grand theft, and collective association. He was sentenced to 25 years to life in prison. Seth has always maintained his innocence.
Life in Prison
Jailed for over 30 years, Seth has long since served the time he was sentenced to and while in prison he has worked as a librarian, pre release advisor, and AIDS councilor. He has remained drug and alcohol free throughout his entire period of incarceration and has maintained a charge free record in prison. Seth first came up for parole in 1998, but prison officials refused to release him and gave him another two years, after which he was again denied parole. Prison officials are effectively punishing him for having been a member of the Black Panther Party, and of having remained true to his ideals after 30 years behind bars.
Seth has been diagnosed with Hepatitis C and adult onset Diabetes since the year 2000. Unfortunately, despite his repeated requests Seth has not been receiving adequate health care from the prison and his condition has steadily deteriorated.
Media
You can download and print out the parole campaign brochure explaining Seth's case as a way of educating people about the political nature of the case and the parole board's constant denials despite national and international support for Seth's release on parole. Seth prepared a fact sheet for those who would like to write letters to the Parole Board on his behalf. He was freed on parole in July 2018 after 10 denials.
Picture: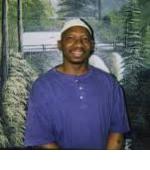 Birthday:
Thursday, October 14, 1948