Richard Mafundi Lake was a long-time organizer against racist police brutality in Alabama. He was sentenced in 1983 under Alabama's Habitual Offender Act to life in prison. Mafundi served as the National Organizer for the African National Prison Organization in the late seventies and early eighties. He was also a main organizer of the Atmore-Holman Brothers inside the Alabama prison system.
Richard was arrested in September 19, 2001 for allegedly creating a security hazard by writing anti-American propaganda on the black board during an Islamic service. However, Richard has stated that he was leading a discussion regarding reparations for Black people for enslavement and centuries of injustices. He was one of the longest sentences as a consequence of anti-islamic hysteria after 9/11 that had nothing to do with any "terrorist" attacks on the U.S.
Early life:
As a result of his civil rights activity, as a senior in highschool he was set up on a false robbery charge and convicted of a felony crime. He turned his resistance into activism during that first prison term by organizing prisoners against attacking one another at the behest of the guards, establishing basic education and law classes for Black and white prisoners, and putting together a group called Inmates for Action. He remained an activist upon his release; he organized a defense committee for prisoners, support for their families, documentation of police brutalization of the community, corruption, graft – and presented the findings to the City Council and in public forums.
Richard died in prison on January 21, 2018.
Picture: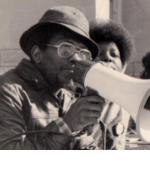 Birthday:
Thursday, February 29, 1940