Mumia is an award-winning journalist and was one of the founders of the Black Panther Party chapter in Philadelphia, PA. He was a vocal supporter of the MOVE organization and has struggled for justice and human rights for people of color since he was at least 14 years old- the age when he joined the Party. He left the party to become a radio journalist where he made waves defending the rights of black and brown people.
The Case
In December of 1982, Mumia, who moonlighted by driving a taxi, happened upon police who were beating his brother. During the melee, a police officer was shot and killed. Despite the fact that many people saw someone else shoot and then run away from the scene, Mumia, in what could only be called a kangaroo court, was convicted and sentenced to death. During the summer of 1995, a death warrant was signed by Governor Tom Ridge, which sparked one of the most effective organizing efforts in defense of a political prisoner ever. Since that time, Mumia has had his death sentence overturned but still has a life sentence with no opportunity for parole.
Media
While imprisoned he has published multiple works of literature making social commentary on today's conditions. He has remained a regular on the prison broadcasted radio shows as well as teaching class on Georgist economics to fellow prisoners around the globe. HBO also created a documentary about the life, arrest, and struggles with the law of the activist called "Mumia Abu- Jamal: A Case for Reasonable Doubt."
Mail Regulations
In 2018, the PA Dept of Corrections instituted a restrictive mail policy where all mail to prisoners must be sent through a mail processing facility in Florida where all correspondence is scanned, copied and then the copy is mailed to the prisoner. There is an active campaign to get Gov. Wolf to repeal the restrictive policy so that friends and family member can send mail such as greeting cards again.
Picture: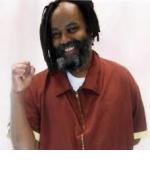 Mailing Address:
Smart Communications/PADOC - Mumia Abu-Jamal AM-8335
United States