Fred Burton is one of the Philly 5 a group of men accused of an alleged attack on a police station that left one officer killed. He was sentenced to a life term for murder. Burton has maintained his innocence since his arrest.
Personal Background
Prior to his incarceration, Fred worked for a phone company, was a well-respected member of his community and his wife was preparing to have twins, his third and fourth child.
Legal Case
In 1970, Fred was accused and then convicted of participating in the planning of the murder of Philadelphia police officers. While the plan was allegedly to blow up a police station, what occurred was that a police officer was shot and killed allegedly by members of a radical group called "the Revolutionaries."
Only one witness, Marie Williams, who was the wife of co-defendant and primary actor, Hugh Williams, testified as to the relationship between, Fred and "the Revolutionaries." Fred was not accused of being at the scene of the crime. At Fred's trial, Marie Williams was compelled by order of the court to testify. Ms. Williams inculpated Fred by testifying that on one occasion, she had heard someone in her basement, a floor below her, say, "Let's off some pigs." She did not accuse Fred of making those statements. She only testified to Fred's presence at that meeting. Ms. Williams also testified that besides the one meeting, she had no knowledge of the content of the meetings.
The Commonwealth intentionally struck every African-American from the active jury. The all white jury unanimously convicted Fred after being purposefully misled by the Commonwealth and Marie Williams.
The testimony of the Commonwealth's star witness, Marie Williams, was marred by contradiction. Marie Williams initially claimed Fifth Amendment at the first two of three preliminary hearings and refused to testify. At Fred's third preliminary hearing, Marie Williams completely exonerated Fred. She testified that she had no knowledge of "the Revolutionaries" or of Fred's involvement with that group. After the third preliminary, the case was held for trial. Marie Williams was then subjected to a closed immunity hearing and compelled to testify at trial.
While searching through records that his family had obtained, Fred came across several items of exculpatory evidence: 1) the transcript of Marie Williams' previously undisclosed immunity hearing, 2) the two alleged original statements by Marie Williams given to the police after the murder, and 3) a pretrial letter authored and signed by Marie Williams to the prosecutor. This letter was submitted as evidence in the immunity hearing. It stated that the prosecutor and the police were intimidating Marie Williams and forcing her to lie in court. Most importantly, the same letter stated Marie Williams has no knowledge that Fred Burton participated in any meetings or crimes.
Legal Appeals
In 2002, his lawyer sued to have him released from indefinite solitary confinement. In September 2003, Fred brought a pro se Post Conviction Petition to vindicate his rights based on the newly discovered documents along with essential documents from the record that prove the occurrence of a fraud on the court, a gross miscarriage of justice and his innocence.
The present PCRA trail court has refused to address any substantive claims of Fred Burton.
In early 2007, Fred's lawyer filed a new PCRA brief to the Court of Appeals and recently the court ruled that it will schedule a hearing for oral arguments on July 10th.
Life in Prison
Upon being sentenced to prison in 1972 Mr. Burton was automatically a target for the prison guards due to the racially charged atmosphere and the nature of the conviction. Mr. Burton became an organizer in prison and a teacher. His work was not appreciated by the authorities. Of the forty years Mr. Burton has been in prison, thirty three of them have been in a maximum security facility. Eleven of those years have been spent in solitary confinement.
Mail Regulations
In 2018, the PA Dept of Corrections instituted a restrictive mail policy where all mail to prisoners must be sent through a mail processing facility in Florida where all correspondence is scanned, copied and then the copy is mailed to the prisoner. There is an active campaign to get Gov. Wolf to repeal the restrictive policy so that friends and family member can send mail such as greeting cards again.
Picture: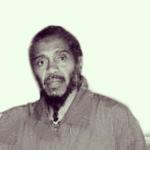 Birthday:
Sunday, December 15, 1946
Mailing Address:
Smart Communications/PA DOC - Fred Burton AF 3896
United States