Mike is a member of the Move 9 and a loving father and grandfather. He was released on parole on October 23rd, 2018 and is the husband of Debbie Africa who was released on parole months prior.
In his own words:
I am MOVE's Minister of Confrontation. I was born and raised in West Philly, youngest of eight children, raised in an environment of poverty, gang war, and all the other afflictions of ghetto life. I started drinking at an early age to hang out with the crowd and eventually ventured over to drugs. I joined the Marines at age 16 to try to stem that spiral, but it definitely made things worse. I wasn't socially conscious about many issues and didn't really care to be. My whole life basically centered around locatin the next happening party.
I was introduced to some MOVE members by my wife's family, MOVE members had come to aid them during a neighborhood dispute. I later saw some of those same MOVE people demonstrating against the 16th Police District, a notoriously racist gang known for terrorizing the community where I grew up. The same 16th District that had members of the Black Panthers stip buck naked in front of their HQ, including pregnant women in the early 1970's. Most people I knew hated them, we just feared them more, so while I wasn't immediately attracted to MOVE, I was immediately amazed by their courage. I had never seen people confront the cops the way MOVE did – directly, forcefully and never taking a step back.
In 1974 I attended a demonstration where MOVE was protesting the jailing of 2 or their younger members, ages 13 and 15. A judge had them thrown in jail for speaking out against them. The police arrested us all, literally, as we got off the bus, and jailed us on a whole slew of charges. It really scared the hell our of me, but it also let me see more clearly what MOVE was saying about the system.
From that moment on, I listened more carefully to the Teachings of JOHN AFRICA. I became more attracted to the strength it took to confront the system as MOVE did. And as I read more of the Guidelines written by JOHN AFRICA I did become motivated for the first time in my life by something other then diversions, drugs, and parties. The more I engaged in MOVE activity, the less I engaged in that other stuff. In the first couple years being around MOVE I went from being a young chain smoking, pill popping alcoholic, completely apathetic to the problems of virtually everybody, to doing none of those things and being motivated to become a strong revolutionary soldier because of the example I say being demonstrated by JOHN AFRICA.
LONG LIVE JOHN AFRICA!
And that example has only gotten clearer and stronger since I've stayed.
Long Live MOVE, and down with this rotten ass system!
Picture: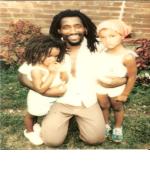 Birthday:
Wednesday, October 5, 1955