Jeremy Hammond is an anarchist computer hacker from Chicago. He is the founder of the computer security training website HackThisSite, created in 2003 following his graduation from Glenbard East High School.
On March 5, 2012, Hammond was arrested by FBI agents in Bridgeport, Chicago ahead of an indictment unsealed the following day in the Lower Manhattan federal district court. He is one of six individuals from the United States, England and Ireland indicted, due to a cooperating witness known online as Sabu.
In November 2013, he was sentenced to 10 years in federal prison for leaking the personal information of 860,000 customers of private intelligence firm Strategic Forecasting (Stratfor) through the whistle-blowing website Wikileaks. This information revealed that Stratfor spies on activists, among others, at the behest of corporations and the U.S. government.
2019 Grand Jury Resistance
In August 2019, Jeremy was summoned to appear before a grand jury in the Eastern District of Virginia and transferred to a Virginia jail where he now faces up to an additional 18 months for contempt by refusing to testify. It is believed to be the same grand jury that is currently imprisoning Chelsea Manning for bravely refusing to testify. Like grand jury resisters before him, Jeremy firmly believes that grand juries are repressive tools of the government, used to investigate and intimidate activist communities and are abused by prosecutors to gain access to intelligence to which they are not entitled. The U.S. government's blatant abuse of the grand jury process in this case continues to be a clear pattern of targeting, isolating and punishing outspoken truth-tellers and activists.
Jeremy has no intention of cooperating with this, or any other, grand jury he may be called in front of. Simpy by calling him in front of this grand jury, the givernment has already added a minimum of nine months to his sentence by removing him from a program he was participating in at the federal prison he was serving his sentence at. His prison release date was projected to come around mid December of 2019 but because of his removal from the program and the summons to this grand jury his time incarcerated could be extended by over two years. He was released from the Grand Jury in March 2020 and transferred back to federal prison to serve the remainder of his sentence.
Released to halfway house November 17, 2020 and his sentence ended on 3.5.2021.
Picture: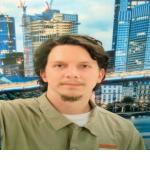 Bitcoin:
1JeremyESb2k6pQTpGKAfQrCuYcAAcwWqr