Personal Background
Herman Bell was born in Mississippi and moved to Brooklyn, New York as a boy. He was a talented High School football player and won a football scholarship to the University of California in Oakland. While in Oakland, Herman joined the Black Panther Party and became active around human rights issues in the Black community.
Legal Case
In 1971, he went underground because of relentless FBI attacks on the Black Panther Party. While underground, Herman joined the Black Liberation Army, and in September of 1973 he was captured and extradited to New York on charges of having killed 2 New York City police officers– a case for which Jalil Muntaquim and Nuh Washington were already serving time. No witnesses were able to put Herman at the scene of the crime. The first trial ended in a hung jury and he was convicted at his second trial and given 25 years to life.
He was granted parole in March 2018, and after a judge upheld the decision was released on April 27th after serving nearly 45 years in prison. Herman was one of thousands of incarcerated older people who was repeatedly denied parole for over a decade after completing his minimum sentence. His release is a result of important and urgent changes in the criminal legal system and parole regulations that are part of nationwide efforts to end mass incarceration. Herman is deeply humbled and grateful for the broad expressions of trust and support, but out of respect for the feelings of the victims' families, he will not be making any public statements.
Life in Prison
Herman was a prison activist and has coached various sports teams inside the prison system. In 1990 he earned his B.S. degree from the State University of New York at New Paltz. Most recently, Herman was indicted as one of the San Francisco 8, 8 former Black Panthers all accused of murdering a police officer in San Francisco in the 1970's. Herman pled guilty to a smaller offense and was not given any additional time to his sentence.
Picture: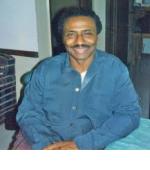 Birthday:
Wednesday, January 14, 1948