Hanif is one of the Virgin Island 3 serving 8 consecutive life sentences after being tortured into a false confession, then wrongly imprisoned. He was 22 at the time of his arrest in 1972. After decades in prison, he has ongoing health issues that he is not being adequately treated for including diagnostic testing on his liver that was ordered by a physician in 2017 but has yet to be done.
Family
Hanif has 3 children and 8 grandchildren. If granted commutation, he would return to live with his family, where he also has employment opportunities.
Donations
Stamp donations of up to 20 stamps can be sent with letters.

His ID# that must be included on the envelope of letters is #19-1952.
For commissary donations, his number is #516-1331.
Instructions for Depositing Money into Inmate Trust via Wachovia Lockbox:
1. Obtain money orders and / or cashier's checks made payable to inmate. Personal checks and cash are not accepted.
2. Mail money orders and / or cashier's checks in envelopes addressed in the following manner:
CCA Inmate Trust
(Inmate Last Name, Inmate First Name / Inmate CCA Commissary #)
Facility: ________________
P.O. Box 933488
Atlanta, GA 31193-3488
3. Make sure sender's first and last name and return address is on the envelope.
4. Do NOT include any correspondence such as letters, cards, pictures, or packages with a money order or cashier's check. None of these items sent to this address will be forwarded to the inmate or returned to sender.
You can also send money via Western Union by using the Internet, by phone or by a Walk-in Cash Payment. The website is www.westernunion.com/corrections. The phone number for phone quick collect is 1-800-634-3422.
Picture: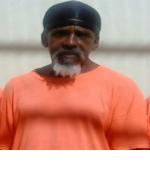 Birthday:
Wednesday, August 16, 1950
Mailing Address:
Citrus County Detention Facility
United States