Edward Poindexter and Wopashitwe Mondo Eyen we Langa (David Rice) were convicted and sentenced to life in prison in 1971 for the murder of Omaha Police Officer Larry Minard. Minard died when a suitcase dynamite bomb exploded in a vacant house in North Omaha on August 17, 1970. Officer John Tess was also injured in the explosion.
Legal Case
Poindexter and the late Wopashite Mondo Eyen we Langa are referred to by some supporters as the "Omaha 2." Their conviction was controversial and has never been accepted as legitimate by many in the African American community in Omaha. Poindexter and Mondo were suspects- before there was any evidence- because they were leaders of the National Committee to Combat Fascism (NCCF), an offshoot of the Black Panther Party. A 15-year old boy named Duane Peak carried a suitcase around North Omaha for six hours on the Sunday before the bombing. His sister drove him with the suitcase to the neighborhood where the bomb exploded. Peak's entire family was charged in the first-degree murder of a police officer because they took a car ride with Duane while he was carrying the suitcase.
After three days in custody, Peak gave a deposition to the County Attorney claiming that Poindexter made the bomb in Mondo's kitchen and told the teenager Peak to carry it to the house and make a 911 call to lure police to the house. Peak testified that the suitcase had a triggering device made out of a clothespin held open by a wedge of wood. Forensic science (and common sense) forgo the possibility that Peak carried a bomb with a clothespin triggering device for six hours without causing an explosion. After the convictions of Poindexter and Mondo, Peak was charged with juvenile delinquency and sent to Montana to serve his sentence. Charges against his family members were also dropped.
ATF agent Tom Sledge, who had been an Omaha Police officer for eight years, personally transported Poindexter's clothes and dynamite samples to the ATF lab in Washington. A chemist testified that chunks of dynamite visible to the naked eye were found in his jacket pocket, but no traces were found on the outside of his clothing or on his hands. Clearly, dynamite was planted in his pocket but no appeal was granted on that basis.
A tape of the 911 call that lured police to the vacant house was never played at the trial. Three defense attorneys never listened to it. The FBI was asked to do voice analysis on the 911 call, but the Omaha Police cancelled the request because Chief of Police Glenn Gates felt the tape was "prejudicial" to the case. Lt. James Perry destroyed the original reel-to-reel tape during the appeals process, stating in a deposition that the trial was over as far as he was concerned.
Ten years after the trial, a copy of the 911 call surfaced in the police emergency center. It was not the voice of Peak, or Poindexter or Mondo. Finally, in 2006, voiceanalysis of the tape was ordered by an appellate court. The Nebraska Supreme Court did not grant a new trial on this evidence of perjury. In 2010, the Eighth Circuit Court of Appeals refused to allow Poindexter to file an appeal in federal court on the voice analysis because of limitations created by the 1996 Effective Death Penalty and Anti-Terrorism Act.
While being shut out of court on the voiceanalysis in 2010, Poindexter filed a pro se brief claiming that he was unfairly denied parole. The Nebraska Supreme Court dismissed his appeal.
Poindexter and Mondo had been targeted by the FBI's COINTELPRO (Counter Intelligence Program), which operated against and infiltrated anti-war and Civil Rights groups, including the Omaha Black Panthers. In the late 1970s, Amnesty International included Rice and Poindexter in an investigation of possible U.S. political prisoners. Amnesty issued a statement that the pair did not get a fair trial and should be retried.
Poindexter applied to the Midwest Innocence Project in 2017. His case was put on a waitlist.
Life in Prison
Ed transferred to prison in Minnesota in 1979 to further his education. He was sent back to Nebraska in 2006. In the 1990s, Nebraska's parole board recommended Ed and his codefendant Mondo for release due to their exceptional conduct, accomplishments and recommendations but the Pardons Board-- the Governor, Attorney General and Secretary of State-- refused to grant them a hearing. Unfortunately, Mondo died in prison of Chronic Obstructive Pulmonary Disease on March 11, 2016, after being incarcerated from age 23 to 69.
Ed has diabetes. He underwent triple bypass heart surgery in 2016. After several falls, he chooses to use a wheelchair. He has a cataract that makes it impossible for him to read. If you would like to write him a letter, it must be typed with 18 point or larger font. Put a large note on the envelope so that he knows that you are aware of his eye issues and have included a letter in a type that he can read. The Nebraska Department of Corrections does not plan to allow him to have surgery because "he has one good eye."
ACCOMPLISHMENTS OF ED POINDEXTER
U. S. Army Veteran stationed in both Germany and Vietnam.
Academic
Associate of Arts degree from Southeast Community College, Lincoln Nebraska
Bachelor of Arts degree in Human Services from Metro State University, St. Paul, Minnesota. Poindexter maintained a straight A average while obtaining his degree.
Completed work on his M.A. from Goddard Graduate Program in Monpelier, Vermont.
Awards
Held positions of leadership in the Art Club, 111 Jaycees (president), and Harambee African Cultural Organization while at the Nebraska State Penitentiary.
Received the Antoniak Award for the Insight Program, Inc. for outstanding academic achievement.
Publications/Accomplishments/Employment
Assisted in creating the production, Shakedown Blues, a musical drama.
Wrote "Esteem Quest," an educational, motivational progam to reduce recidivism.
Published two booklets, The Youth Survival Guides, motivational booklets for at-risk and troubled youths.
Author of screenplays, including "Talons" a sci-fi thriller.
Received permission from the Minnesota Correctional System to form a small business to publish and sell The Youth Survival Guides.
Recorded Jammer from the Slammer, a rap tape promoting constructive problem-solving and self-motivation guides to complement The Youth Survival Guides.
Participated in Minnesota's "Turn Off the Violence" Campaign by helping to organize the campaign and also performing rap numbers.
Requested to be the operator of the Juvenile Detention Bed Hotline Information Message Program. The studio produced works to support the "Turn Off the Violence" Campaign.
Taught a class at the Minnesota Correctional System on building self-esteem. This class is a part of the "Stop the Revolving Door Program", a pre-release program for inmates with less than a year remaining inside the institution.
Taught a men's health class, including AIDS education.
Co-facilitated the teaching of four classes: The History of Intolerance in America, Eyes on the Prize; The History of the Civil Rights Movement in America; Black History Month Subjects; and Music Education. (Ed plays guitar and sax.)
Developed a program for prisoners to discuss problems of men who batter women to promote an understanding of negative behavior patterns and encourage attitudinal and behavior changes.
Videotaped and edited several motivational tapes.
Presented a proposal to the administration of the Minnesota Correctional System to open an audio recording studio in the Recreation Department.
Selected media about the case:
2016 Buzzfeed article by Elena Carter. https://www.buzzfeednews.com/article/e6carter/the-omaha-two
2018 book by Michael Richardson. https://northomahahistory.com/?s=framed
2014 video short by Kietryn Zychal. https://www.youtube.com/watch?v=3dX-cxlRF5Y
Picture: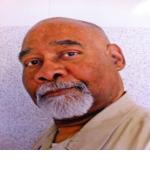 Birthday:
Wednesday, November 1, 1944
Mailing Address:
Nebraska State Penitentiary
United States