On December 15 2014, Rev. Edward Pinkney, a leader in the struggle for social and economic justice for the residents of Benton Harbor, Michigan, was sentenced to serve 3 to 10 years in prison, on the basis of thin circumstantial evidence that a few dates had been altered on a recall petition against the city's mayor, James Hightower. The recall was prompted by the mayor's continued support for tax evasion by the Whirlpool Corporation, the Fortune 500 company and $19 billion global appliance manufacturer, headquartered in Benton Harbor. He was arrested on April 25, 2014.
Pinkney was also a leader in the fight against the ceding of a Benton Harbor public park to Whirlpool and a development firm which privatized the park and gentrified that prime real estate into a golf course and wealthy gated community on Lake Michigan - excluding the people that the property was deeded to serve. Pinkney led a protest against the PGA Senior golf tournament at the private new golf course, sponsored by Kitchen-Aid, a division of Whirlpool.
He is eligible for parole starting June 13, 2017 and his maximum release date is December 13, 2024.
Picture: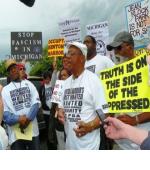 Birthday:
Tuesday, October 26, 1948