Casey is an anarchist from the Kansas City area who was charged with slashing the throat of the Dean of Metropolitan Community College-Penn Valley. This occurred when the Governor of Missouri, Jay Nixon, was scheduled to give a talk at the college. In February 2011, the state declared him to be incapable of standing trial, which means he was forced to stay locked up in a mental institution pre-trial until June of 2013. He was sentenced to 12 years on each of three counts – assault, and two armed criminal action charges – and seven years on a second count of assault. All sentences will run concurrently.
Casey's account of what happened: https://kansascityabc.wordpress.com/2016/03/03/the-short-story-of-how-i-got-here-casey-brezik/.
Life in Prison
He got married to a woman being held in another Missouri prison. He's studying calculus so he can go to school to be an aerospace engineer once he's released. He's currently saving his money (and asking for help) to afford a cheap vehicle when he gets out in order to transport himself to work and school. His intentions are to parole out to the St. Louis area and attending a community college until he gets his basic credits and can transfer to a university. His eyes are set on the Missouri University of Science and Technology.
Casey suffers from depression and has a history of schizophrenia. He describes himself as socially awkward and says he often feels misunderstood. He has a kind heart and regrets having inadvertently hurt some of those who have tried to reach out to him while doing his time. He hopes you can forgive him. He looks forward to getting out relatively soon and getting to see all of those who have shown him support over the years.
Second Case
In 2022, Casey was set to be released on parole but was charged with assaulting a guard. He plead guilty and is looking at serving an additional 2-3 years of a 5 year sentence. He is currently at Daviess/Dekalb County Jail awaiting transfer to a longer-term facility.
Picture: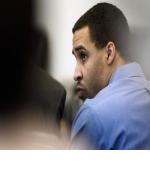 Birthday:
Wednesday, December 30, 1987
Mailing Address:
Daviess/Dekalb County Jail
United States