Andrey was born in the city of Kamenka, Penza region. He studied at the Penza Pedagogical Institute at the Faculty of Physics and Mathematics. He is interested in rock music, programming, muay thai. Participated in competitions and won prizes. Vegetarian, took part in the actions "Feed the hungry". He lived with his twin brother Alexei in a rented apartment in Penza. He worked at the factory as a fitter.
Legal Case
Detained in early November 2017 in frames of an investigation of the so-called "Network" case and charged under Part 2 of Art. 205.4 of the Criminal Code of Russia (Participation in Terrorist Group).
ALL MESSAGES AND LETTERS MUST BE WRITTEN/TRANSLATED IN RUSSIAN.
Picture: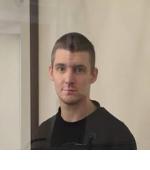 Mailing Address:
Chernov Andrey Sergeevich, 1989
Penza
Penzenskaya oblast
440039
Russia