Andrei Dzhamburiyev is an anarchist from Brest. On October 4, 2016 sentenced to 3 years of house arrest for malicious hooliganism. In May 2016 he had a random street fight with some bullies. This was qualified as a misdemeanor and he got a warning against further violent actions.
Later the organised crime department of police learned about the case and requalified it as a felony, basically charging a person twice for one incident.
Though the situation itself didn't have to do with politics, we consider this persecution political as he has been harassed by the police for a long time for his anarchist activity. Cops were not able to get him for any political article, so they used a more cunning method.
As of July 21, 2018, released on parole.
Picture: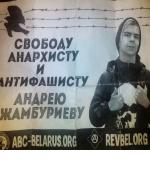 Bitcoin:
1CcxWEswKjXZgXQCds5KcHfemzrAASVbuv