Alfredo and Nicola Gai were arrested on September 14th, 2012 and accused of shooting Ansaldo Nucleare manager and Finmeccanica affiliate, Roberto Adinolfi, in the knees – an action carried out by Olga nucleus FAI/FRI in May 2012. In May of 2015 their sentences were reduced, Alfredo's to 9 years and 5 months in prison, Nicola's to 8 years and 8 months.
Operation Scripta Manent charges
While already in prison, additional charges from Operation Scripta Manent were placed on Alfredo. He was sentenced to 20 years, for the possession and transport of explosives in relation to the bomb in Parco Ducale near the Parma RIS ("scientific investigation department" of Carabinieri) of 24 October 2005 (acquitted of the crime of attack because "crime impossible" because the switch of the bomb was off), of the explosive envelope sent to the then mayor of Bologna Cofferati in 2 November 2005 (convicted of the bombing plus "possession and transportation of explosives"), of attacks with multiple explosive devices at the Carabinieri school of Fossano in June 2, 2006, and in the Crocetta district in Turin in 7 March 2007 (crime of "massacre aggravated by the fact that the goal would have been the police" and acquitted of the aggravating circumstance of political motivation), of sending explosive parcels to the then mayor of Turin (Chiamparino), to the editor of the newspaper "Torino Cronaca" (Giuseppe Fossati) and to COEMA Edilità (company involved in the restructuring of the CIE, "identification and expulsion center" for migrants) in July 2006. He is also indicated as promoter of the FAI (Federazione Anarchica Informale), recognized as a "subversive association with terrorism purposes." The aggravating circumstance of transnationality was dropped.
Picture: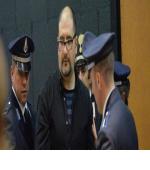 Mailing Address:
Casa Circondariale Ferrara
Italy