Dr. Rafil A. Dhafir is an American Iraqi-born physician, who was targeted along with many other Muslims post 9/11 in the Bush administration's "War on Terrorism." He started the charity Help the Needy, to respond to the humanitarian crisis created by the Gulf War and US Sanctions on Iraq. The US government originally charged the charity and Dhafir with violations of the US sanctions. When he refused a plea bargain, the government falsely charged the charity with fraud, money laundering, tax evasion and a variety of other nonviolent crimes.
For several years, Dr. Dhafir was under extensive surveillance by the government. The government monitored all his communication, whether it was by mail, email, fax or telephone. They bugged his home, office and hotel rooms.
The government's surveillance even extended to the home of his office manager of 10 years, Kelly Tubbs, who was never involved with the Help the Needy charity.
The trial lasted 17 weeks. The government called over 50 witnesses and the defense only called one witness for 15 minutes.
Terrorism was alluded to throughout the trial. This happened in spite of the fact that Dr. Dhafir was never charged with terrorism and the prosecution had filed a successful motion to prevent the defense from raising the issue of terrorism during the trial. For example, the prosecution would bring up the fact that Dr. Dhafir was a Salafi and so was Osama bin Laden.
During sentencing, the government alleged that Dr. Dhafir was a "national security risk" and requested an increased sentence. An allegation that Dr. Dhafir was never given an opportunity to defend against since it was not brought up during trial. Dr. Dhafir was sentenced to 22 years in prison.
On February 2, 2015, the Constitutional Law Center for Muslims in America (CLCMA) filed a Memorandum of Law in support of Dr. Dhafir's 2255 Motion to vacate his conviction.
Note: Do not address him as "Doctor" because these letters are being returned.
Picture: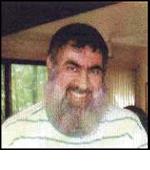 Birthday:
Wednesday, August 25, 1948