Loïc was arrested on 8/19/18 on a EU fugitive warrant for G20 protest charges. They now also face imposition of suspended jail sentence for a French nuclear dump protest conviction.
The anonymous2-appeal-trial should take place in Paris on the 4th of December.
Loic was transfered to the German authorities and is in Hamburg since the second week of October.
There will probably be a group-process against people supposedly involved in the Elbchaussee-Riot from december 18th at Hamburg main court.
On December 19, Loïc was released under judicial supervision and will expect trial on the outside.
Picture: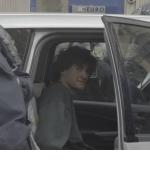 Birthday:
Saturday, August 12, 1995