Dzmitry Palijenka was detained on March 20, 2019 on suspicion of committing a crime under part 3 of Article 339 of the Criminal Code ("Extremely gross misconduct"). He was accused of pepper spraying a drunk man at the entrance of the block of flats where the activist was expecting a friend. The man tried to warn him against smoking and initiated the conflict. Only a week later the police raided Dzmitry's flat and detained him.
Having spent about 20 days in detention, he was finally charged with three crimes: extremely gross misconduct, desecration of buildings or other structures with cynical inscriptions or drawings, and inciting racial, national or religious hatred or discord; intentional actions aimed at inciting racial, national or religious hatred or discord, humiliation of national honour and dignity.
The two latter crimes regard an anti-police graffiti which was the reason for his detention in January. The investigation must think that humiliating a cop equals inciting social harted.
On October 25, 2019, Dzmitry was sentenced to 3 years of restricted liberty (an equivalent of house arrest). The sentence will be reduced to 10 months, considering a recent amnesty and the defendant's stay in pre-trial detention. The activist was released in the courtroom.
In 2016-2018, Dzmitry spent 2 years in prison for an alleged assault of a traffic policeman during Critical Mass.
Picture: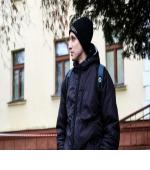 Bitcoin:
1CcxWEswKjXZgXQCds5KcHfemzrAASVbuv